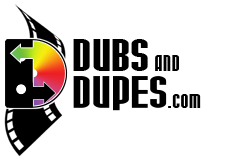 Dubs and Dupes was our duplication department for many years. Since almost everything today is digital, we have merged our duplication services with Digitizing World.

Even though videotape duplication has become rare, we still have the high end, professional decks to playback all of the legacy formats. Instead of duplicating your legacy videotape, let Digitizing World migrate your collection to digital files that can easily be copied and archived with zero data loss.

If you have a large library of video tape or other sensitive media that needs digitizing or tranfers, we can bring our equipment and technicians to you, anywhere in the world.
Learn More...


Betacam SP / DVCPRO50 Duplication
NTSC Betacam SP Duplication
| | |
| --- | --- |
| 1-5 Minutes | Unit Price |
| 1 DVCPRO50 or Betacam SP Copy | $44.99 |
| 2-5 DVCPRO50 or Betacam SP Copies | $25.99 |
| 6-10 DVCPRO50 or Betacam SP Copies | $20.99 |
| 11-49 DVCPRO50 or Betacam SP Copies | $18.99 |
| 50+ DVCPRO50 or Betacam SP Copies | $16.99 |
| | |
| --- | --- |
| 6-10 Minutes | Unit Price |
| 1 DVCPRO50 or Betacam SP Copy | $49.99 |
| 2-5 DVCPRO50 or Betacam SP Copies | $30.99 |
| 6-10 DVCPRO50 or Betacam SP Copies | $25.99 |
| 11-49 DVCPRO50 or Betacam SP Copies | $23.99 |
| 50+ DVCPRO50 or Betacam SP Copies | $21.99 |
| | |
| --- | --- |
| 11-20 Minutes | Unit Price |
| 1 DVCPRO50 or Betacam SP Copy | $54.99 |
| 2-5 DVCPRO50 or Betacam SP Copies | $33.99 |
| 6-10 DVCPRO50 or Betacam SP Copies | $30.99 |
| 11-49 DVCPRO50 or Betacam SP Copies | $28.99 |
| 50+ DVCPRO50 or Betacam SP Copies | $26.99 |
| | |
| --- | --- |
| 21-30 Minutes | Unit Price |
| 1 DVCPRO50 or Betacam SP Copy | $58.99 |
| 2-5 DVCPRO50 or Betacam SP Copies | $38.99 |
| 6-10 DVCPRO50 or Betacam SP Copies | $32.99 |
| 11-49 DVCPRO50 or Betacam SP Copies | $30.99 |
| 50+ DVCPRO50 or Betacam SP Copies | $28.99 |
| | |
| --- | --- |
| 31-60 Minutes | Unit Price |
| 1 DVCPRO50 or Betacam SP Copy | $93.99 |
| 2-5 DVCPRO50 or Betacam SP Copies | $63.99 |
| 6-10 DVCPRO50 or Betacam SP Copies | $59.99 |
| 11-49 DVCPRO50 or Betacam SP Copies | $57.99 |
| 50+ DVCPRO50 or Betacam SP Copies | $55.99 |
| | |
| --- | --- |
| 60-90 Minutes | Unit Price |
| 1 DVCPRO50 or Betacam SP Copy | $122.99 |
| 2-5 DVCPRO50 or Betacam SP Copies | $97.99 |
| 6-10 DVCPRO50 or Betacam SP Copies | $79.99 |
| 11-49 DVCPRO50 or Betacam SP Copies | $77.99 |
| 50+ DVCPRO50 or Betacam SP Copies | $75.99 |
| | |
| --- | --- |
| Labels | Unit Price |
| Color DVCPRO / Beta SP Labels | $0.50 |
| Color DVCPRO / Beta SP Inserts | $0.50 |
| | |
| --- | --- |
| Supplied BetaSP Stock | |
| 1-30 Minutes deduct | $10.00 |
| 31-90 Minutes deduct | $20.00 |
The above prices include duplication, new Sony Betacam SP or
Panasonic DVCPRO50 Stock with box and label


For extremely large jobs please call to receive a special bulk rate