Duplication and Digital Transfers
Dubs and Dupes was our duplication department for many years. Since almost everything today is digital, we have merged our duplication services with Digitizing World. We can still provide duplication services if you need them, but we have evolved with digital media and can readily convert your aging tape library to digital format. TAP HERE FOR PRICING >

All work is done on our premises. Your tapes or media do not leave our building. If you're in Miami, you can avoid any third party handling your media by dropping off your tapes and picking them up when transfers are complete.



Since 1975
We've been working in the broadcast film and video production business for several decades and we're still right here in the same building. We use the latest software and digital equipment, along with the legacy devices necessary to play almost any format videotape ever made.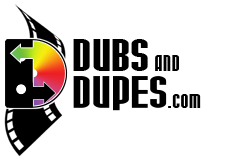 Even though videotape duplication has become rare, we still have the high end, professional decks to playback all of the legacy formats. Instead of duplicating your legacy videotape, let Digitizing World migrate your collection to digital files that can easily be copied and archived with zero data loss.

If you have a large library of video tape or other sensitive media that needs digitizing or tranfers, we can bring our equipment and technicians to you, anywhere in the world.
Learn More...


CD / DVD Duplication
CD Duplication
Price per disc
10-19

$3.99
20-99

$2.19
100-299

$0.99
300-499

$0.79
500-999

$0.59
DVD Duplication
Price per disc
1-9

$8.49
10-19

$7.49
20-99

$3.99
100-299

$1.19
300-499

$0.99
500-999

$0.89
BLU-RAY Duplication
Price per disc
1

$75.00
2-9

$24.95
10-19

$12.95
20-99

$9.95
100-299

$7.95
300-499

$5.95
500+

$3.95
CD/DVD Package Options
Price per disc
Direct Imprint Set Up (one time)

$69.00
Direct Imprint, 4-Color Thermal

$0.49
Paper Sleeve w/Window

Included
Jewel Case

$0.29
Jewel Case Insert, Color
(per side, per disc)
$0.49
Jewel Case w/DVD Tray

$0.40
Amaray DVD Case White, Clear, or Black

$0.49
Amaray DVD Case Insert, Color
(per disc)
$0.69
Slimline Jewel Case

$0.34
Clam Shell Case

$0.39
Shrink Wrap

$0.10
4-Color Custom Printed Quicksleeve
(1000 minimum)
$0.89
Logo + Set-up
$75.00/hour
Artwork: Designing Labels etc.
$75.00/hour