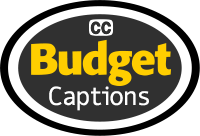 We are located in Miami, Florida. We've been in the same building since 1975, providing services to broadcast professionals and the production industry.

Because Miami is a such multi-cultural hub, we have the local resources to quickly and accurately fulfill your English, Spanish and bilingual English and Spanish language captioning and subtitling needs.

Captioning and Subtitling
We provide closed captions, subtitles, and transcripts for your video or audio files. According to the FCC, internet video clips must be captioned if the associated programming is shown on TV in the U.S. Talk to one of our specialists about helping you comply with the FCC requirements by the 2016 deadline.


Our Services
In addition to our digitizing, encoding, and transfer services, we can add captions and subtitles to your media project. Our goal is to provide the most accurate, complete, and compliant captions with quick turnaround. Even if the FCC requirements don't apply to your project, captioning has applications in:


Education and E-Learning
Corporate and Enterprise
Marketing and Advertising
Customer Service
Media Archives
Government
FCC Requirements
On February 20, 2014, the FCC approved the implementation of quality standards for closed captioning, addressing accuracy, timing, completeness, and placement. FCC rules for TV closed captioning ensure that viewers who are deaf and hard of hearing have full access to programming, address captioning quality and provide guidance to video programming distributors and programmers. The rules apply to all television programming with captions, requiring that captions be:


Accurate: Captions must match the spoken words in the dialogue and convey background noises and other sounds to the fullest extent possible.
Synchronous: Captions must coincide with their corresponding spoken words and sounds to the greatest extent possible and must be displayed on the screen at a speed that can be read by viewers.
Complete: Captions must run from the beginning to the end of the program to the fullest extent possible.
Properly placed: Captions should not block other important visual content on the screen, overlap one another or run off the edge of the video screen.
The rules distinguish between pre-recorded, live, and near-live programming and explain how the standards apply to each type of programming, recognizing the greater hurdles involved with captioning live and near-live programming.